Forschung

Veröffentlichungen von Mitarbeitern in den letzten fünf Jahren:
Geiger T, Gerhards H, Mackenthun E, Bjelica B, Wollanke B. Analysis of 1840 Equine Intraocular Fluid Samples for the Presence of Anti-Leptospira Antibodies and Leptospiral DNA and the Correlation to Ophthalmologic Findings in Terms of Equine Recurrent Uveitis (ERU)—A Retrospective Study. Vet. Sci. 2022, 9(8), 448; https://doi.org/10.3390/vetsci9080448
Wollanke B, Gerhards H. Equine rezidivierende Uveitis. Continuing Veterinary Education (CVE) 2022, 1
Roth SP, Burk J, Brehm W and Troillet A (2022) MSC in Tendon and Joint Disease: The Context-Sensitive Link Between Targets and Therapeutic Mechanisms. Front. Bioeng. Biotechnol. 10:855095. doi: 10.3389/fbioe.2022.855095
Della Tommasa S, Scharner D, Brehm W, Troillet A. Disorders of the sustentaculum tali and the medial trochlear ridge of the talus in horses: Novel findings and surgical management of five cases. Vet Rec Case Rep. 2022;e382. https://doi.org/10.1002/vrc2.382
Wollanke B, Gerhards H, Ackermann K. Infectious Uveitis in Horses and New Insights in Its
Leptospiral Biofilm-Related Pathogenesis. Microorganisms 2022, Volume 10, Issue 2, 387.
https://doi.org/10.3390/microorganisms10020387
Geiger T, Gerhards H, Wollanke B. Detection of Anti-LipL32 Antibodies in Serum Samples from Horses with Chronic Intraocular Infection with Leptospira spp. Pathogens 2021, 10, 1325,
https://doi.org/10.3390/pathogens10101325
Wollanke B, Gerhards H. Cyclosporine A (CsA) concentrations in aqueous and vitreous humour samples and clinical and ophthalmological findings in 16 equine eyes after implantation of a sustainedrelease CsA delivery device. Pferdeheilkunde – Equine Medicine 2021, 37 (3), 234–242. https://doi.org/10.21836/PEM20210304
Wollanke B, Gerhards H, Schinagl C. Results of 654 trans-pars plana vitrectomies of equine eyes with recurrent uveitis – follow-up until 18 years after surgery. Pferdeheilkunde – Equine Medicine 2021, 37 (3), 204-214. https://doi.org/10.21836/PEM20210301
Geißler P, Wollanke B. Biofilm formation in persistent infections and its role in the pathogenesis of equine recurrent uveitis (ERU) – a literature review. Pferdeheilkunde – Equine Medicine 2021, 37 (3), 225-233.
https://doi.org/10.21836/PEM20210303
Gesell-May S, Brem S, Wollanke B, Gerhards H. Examination of equine healthy eyes for intraocular leptospiral infection. (German: Untersuchung gesunder Pferdeaugen auf eine intraokulare Leptospireninfektion.) Pferdeheilkunde – Equine Medicine 2021, 37 (3), 215-224. https://doi.org/10.21836/PEM20210302
Ackermann K, Kenngott R, Settles M, Gerhards H, Maierl J, Wollanke B. In Vivo Biofilm Formation of Pathogenic Leptospira spp. in the Vitreous Humor of Horses with Recurrent Uveitis. Microorganisms 2021, 9, 1915. https://doi.org/10.3390/microorganisms9091915
Kirsten Hahn¹, Theresa M. Conze¹, Bettina Wollanke¹, Ottmar Distl², Lutz S. Goehring¹ and Tanja S. Witte¹.
Urogenital Hypoplasia and X Chromosome Monosomy in a Draft Horse Filly, accepted 4 November 2020, Journal of Equine Veterinary Science.
¹ Equine Hospital, Ludwig-Maximilians University, Munich, Germany
² Institute for Animal Breeding and Genetics, University of Veterinary Medicine Hannover, Hannover, Germany.
Kim S. Giessler, Susanna Samoilowa, Gisela Soboll Hussey, Matti Kiupel, Kaspar Matiasek, Dodd G. Sledge, Friederike Liesche, Jürgen Schlegel, Robert Fux and Lutz S. Goehring, Viral Load and Cell Tropism During Early Latent Equid Herpesvirus 1 Infection Differ Over Time in Lymphoid and Neural Tissue Samples From Experimentally Infected Horses, 04 September 2020, Doi.org/10.3389.
Saklou N, Burgess B, Ashton L, Goehring LS, Morley P, Environmental survival time of EHV-1, Equine Vet J.
,2020 Jun 17, DOI: 10.1111/evj.13313
Duran Graeff C, Dumrath CA, Bartmann CP, Medina Torres CE, Moschos A, Goehring LS. Post Serum amyloid A Concentration after vaccination in horses and mules following (inactivated) EHV-1/ -4 vaccine.
2020 Sep; Doi: 10.1016/j.jevs.2020
Wollanke B, Gerhards H. Navicular Disease in Horses. (German: Podotrochlose-Syndrom bei Pferden.) CVE - Continuing Veterinary Education, Equine 2-2020
Linke RP, Brandes K, Cielewicz M-B, Gerhards H, Wollanke B. Ocular leptospiral infection leads to ciliary induction and local AA-amyloidosis in horses. Amyloid 2019;26(sup1):127-128. doi:10.1080/13506129.2019.1584100.
Liesche F, Ruf V, Zoubaa S, Kaletka G, Rosati M, Rubbenstroth D, Herden C, Goehring L, Wunderlich S, Wachter MF, Rieder G, Lichtmannegger I, Permanetter W, Heckmann JG, Angstwurm K, Neumann B, Märkl B, Haschka S, Niller HH, Schmidt B, Jantsch J, Brochhausen C, Schlottau K, Ebinger A, Hemmer B, Riemenschneider MJ, Herms J, Beer M, Matiasek K, Schlegel J. The neuropathology of fatal encephalomyelitis in human Borna virus infection. Acta Neuropathol. 2019 Jul 26.
Immunomodulatory asthma therapy in the equine animal model: A dose-response study and evaluation of a long-term effect. Klier J, Bartl C, Geuder S, Geh K, Reese S, Goehring LS, Winter G, Gehlen,H, Immunity, Inflammation and Disease DOI: 10.1002/iid3.252
Goehring LS, Brandes K, Ashton LV, Wittenburg LA, Olea-Popelka FJ, Lunn DP, Soboll Hussey G. Anti-inflammatory drugs decrease infection of endothelial cells with EHV-1 in vitro. Equine Vet J. 2017, 49:629-636.
Holz CL, Nelli RK, Wilson ME, Zarski LM, Azab W, Baumgardner R, Osterrieder N, Pease A, Zhang L, Hession S, Goehring LS, Hussey SB, Soboll Hussey G. Viral genes and cellular markers associated with neurological complications during herpesvirus infections. J Gen Virol. 2017 Jun;98(6):1439-1454
Complete AV block in a neonatal foal suffering from nutritional myodegeneration. T. M. Conze, A. Falkenau, L. S. Goehring, A. May. Equine Vet Educ 2021. doi.org/10.1111/eve.13522

Artificial intelligence as a tool to aid in the differentiation of equine ophthalmic diseases with an emphasis on equine uveitis
Anna May, Stefan Gesell‐May, Tobias Müller, Wolfgang Ertel. Equine Vet J. 2022 Sep;54(5):847-855. doi: 10.1111/evj.13528

Evaluation and Utility of Submaximal Stimulation Intensity in Transcranial Magnetic Stimulation in the Standing Horse
Lara Walendy, Lutz Steffen Goehring, Yuri Zablotski, Thomas Weyh, Anna May. J Equine Vet Sci 2022 May;112. doi: 10.1016/j.jevs.2022.103912

Artificial Intelligence for Lameness Detection in Horses—A Preliminary Study. Ann-Kristin Feuser, Stefan Gesell-May, Tobias Müller, Anna May. Animals 2022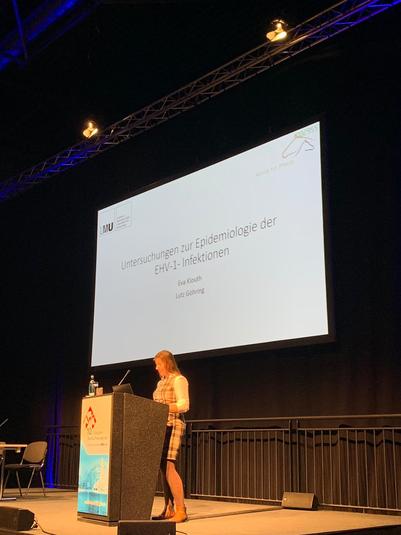 Untersuchungen zur Epidemiologie der EHV-1-Infektionen
E. Klouth (Bild), L.S. Göhring
Klinik für Pferde, Ludwig-Maximilians-Universität München
Für die neurologische Verlaufsform (Equide Herpes-assoziierte Myeloencephalopathie - EHM) bei Erkrankungen mit dem equiden Herpesvirus-I scheint es gewisse Prädispositionen zu geben:

Bisher aufgrund von früheren epidemiologischen Studien vermutete Prädispositionen sind folgende:
• Junge Pferde <2 Jahren erkranken v.a. an der respiratorischen Erkrankung (Henninger, 2007; Lunn,2009)
• Stuten leiden eher an EHM als Wallache und Hengste (Traub-Dargatz, 2011)
• EHM tritt eher bei älteren Pferden auf (Göhring, 2006; Allen, 2008)
• EHM tritt bei einigen Rassen besonders häufig auf (Traber, Kaltblüter) (Göhring, 2006)
• Ausbrüche mit hohem EHM-Anteil sind bei bestimmten Rassen bekannt (Lipizzaner, Warmblut, Quarter Horse (Bürki, 1984; Walter, 2013; Traub-Dargatz, 2013), bei anderen noch gar nicht (z.B. Isländer, Araber).

Basierend auf diesen bisherigen Erkenntnissen haben wir eine große epidemiologische Studie zu dem Thema durchgeführt. Ziel war es, Gemeinsamkeiten bei Ausbrüchen trotz unterschiedlicher Organisation & Zusammenstellung der Bestände darzulegen.

Zusammengekommen sind: 12 Ausbrüche der letzten 10 Jahre v.a. aus D, aber auch NL, S, DK. Es erfolgte eine retrospektive Erfassung der Daten über Betrieb, Ausbruch, Interventionen und Patienten bei sehr unterschiedlichen Betriebe (Haltung, Nutzung, Impfdichte, Fallzahl im Ausbruch, Qualität der Interventionen). Insgesamt haben wir nun Daten von ungefähr 500 Pferden (Alter, Rasse, Geschlecht, Impfstatus, Symptome).
Die Daten sind noch nicht endgültig statistisch ausgewertet, aber er lassen sich schon gewisse Schlüsse ziehen. Die Betriebe/ Ausbrüche sind leider immer schwierig zu vergleichen wegen unterschiedlicher Haltungsformen, Aufbau der Betriebe, unterschiedlicher Behandlung durch den Haustierarzt, Zeitpunkt der Diagnose und Qualität der Interventionen.
Sind alle Stalltrakte eines Hofes betroffen, wird häufig von einer kompletten Durchseuchung ausgegangen, die aber nur selten anhand von Beprobungen jedes Einzeltieres nachgewiesen wird.
Interventionen (Absonderung, Hygiene, regelmäßiges Fiebermessen, dadurch gute Überwachung des Ausbruchs) sind sinnvoll und notwendig. Ausbrüche, in denen schnell und effektiv reagiert werden kann, verlaufen meist deutlich milder.
Viele Faktoren tragen dazu bei, ob ein Pferd neurologisch wird oder nicht. Inwieweit die EHV-1-Impfung wirksam ist, in der Verhinderung von EHM, können wir leider noch nicht sagen. Dafür wäre eine deutlich höhere Fallzahl notwendig oder das kontrollierte Experiment.
Was wir hier allerdings entkräften können, ist die These, dass die Impfung sogar eine Entstehung von neurologischen Symptomen begünstigt. Zum einen die hohen Zahlen an neurologischen Pferden in komplett ungeimpften Betrieben, zum anderen die (in Hoch-Risikogruppen) niedrigen in großenteils geimpften Beständen, widersprechen dieser These.
Es scheint keinen linearen Zusammenhang zwischen Alter und EHM zu geben, wohl aber ein gewisses Mindestalter von etwa 3 Jahren.
Eine Geschlechtsprädisposition konnten wir bisher nicht finden.
Dass es Rasseprädispositionen gibt, scheint immer wahrscheinlicher; gerade, weil wir in unseren Ausbrüchen, in denen die Pferde alle zusammenstanden, trotzdem so eine große Differenz in der Verteilung von EHM haben.

International Symposium on Equine Reproduction, 22nd - 28th July 2018, Cambridge, UK.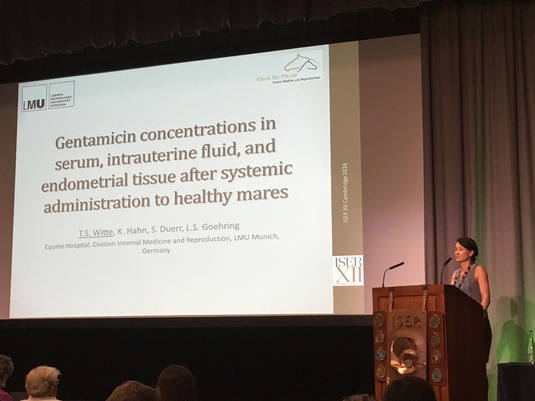 (Dr. Tanja Witte, presentation, Cambridge, UK.)
Concentrations of gentamicin in serum, intrauterine fluid, and endometrial tissue after intravenous administration in healthy mares.
(TS Witte, K Hahn, S Duerr and LS Goehring)
Centre for Clinical Veterinary Medicine, Division of Equine Medicine & Reproduction, Ludwig-Maximilians University, Munich, Germany.
Endometritis in mares remains an important clinical condition for the equine breeding industry. The treatment of choice is antimicrobial therapy, commonly administered into the uterus. Disadvantages of the intrauterine (i.u.) route, however, include the risk of contamination, dependence on estrous cycle stage and inhomogeneous distribution within the endometrium. Therefore, the objective of the present study was to assess gentamicin concentrations in serum, i.u. fluid (IUF), and endometrial tissue (ET) of non-pregnant healthy mares after intravenous (i.v.) gentamicin administration.
We hypothesized that gentamicin concentrations in IUF and ET reach concentrations greater than the minimal inhibitory concentration (MIC) reported for common equine pathogens. 16 mares in estrus were examined for signs of i.u. inflammation, followed by i.u. bacteriological and cytological analysis. Thereafter, each mare was treated with a single dose of gentamicin (6.6 mg/kg BW i.v.) in two consecutive cycles. In both cycles, blood was obtained immediately before (0h) and 1, 2, 4, 6, and 24h after treatment. In the first cycle, IUF was harvested from 16 mares at 0, 1, 2, 4, 6, and 24h using a modified Salivette®-technique.
In the consecutive cycle, endometrial biopsies were obtained from 12 mares at 0, 2, and 24h with a Kevorkian biopsy forceps. Bacteriological and cytological samples were additionally harvested at the end of the study. Gentamicin concentrations were detected using photometry for serum and IUF samples, and a commercial ELISA for ET samples.
All mares were gynecologically healthy at the start of the study and did not receive any medical treatments within 10d before sampling. Mean gentamicin concentrations reached values above the reported MIC for common equine pathogens (4 µg/mL) at 1, 2, and 4h after treatment in serum and IUF samples. In IUF samples the MIC was also reached 6h after treatment. Mean (± SD) gentamicin peak concentrations 1h after treatment in serum were 15.68 ± 2.30 µg/mL in the 1st cycle and 17.2 ± 4.03 µg/mL in the 2nd cycle, while IUF gentamicin peak concentrations were 14.94 ± 10.79 µg/mL. In ET samples, mean (± SD) gentamicin peak concentrations were reached 2h after treatment (5.0 ± 0.18 µg/g), and remained above the MIC by 24h (4.8 ± 0.53 µg/g). Pharmacokinetic evaluation indicated an equal distribution of gentamicin with a mean (± SD) half-life of 2.2 ± 0.1h and 2.3 ± 0.3h for serum and IUF, respectively. The volume of distribution was 256.6 ± 67.9 ml/kg BW and 254.8 ± 154.4 ml/kg BW for serum and IUF, respectively. After sampling, two mares showed mild IUF accumulation with increased neutrophil counts, while another mare showed a mixed bacterial growth without clinical signs of endometritis. Gynecological examination of all other mares was unremarkable. The presented results support the systemic administration of gentamicin as an effective alternative treatment option in mares with endometritis.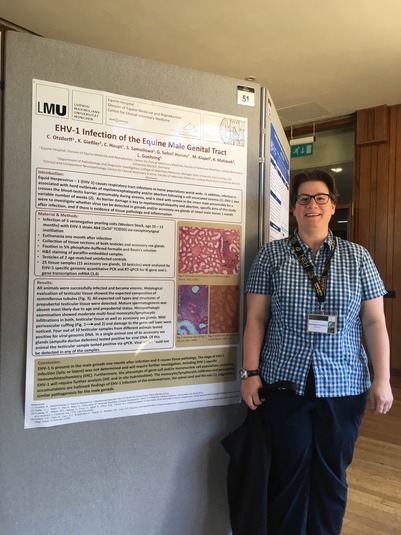 (Dr. Christiane Otzdorff, poster presentation, Cambridge, UK.)
EHV-1 infection of the equine male genital tract
(C Otzdorff1*, K Gießler1, C Haupt1, S Samoilowa1, G Soboll Hussey2, M Kiupel2, K Matiasek3, LS Goehring)
1. Centre for Clinical Veterinary Medicine, Division of Medicine and Reproduction, Ludwig-Maximilians University, Munich, Germany.
2. Department of Pathobiology and Diagnostic Investigation, College of Veterinary Medicine, Michigan State University, East Lansing, USA.
3. Centre for Clinical Veterinary Medicine, Clinical & Comparative Neuropathology, Ludwig-Maximilians-University, Munich, Germany.
EHV-1 infection of the equine male genital tract Equid Herpesvirus (EHV-1) causes respiratory tract infections in horse populations world-wide. In addition, infection is associated with herd outbreaks of myeloencephalopathy and abortion following a cell-associated viremia. EHV-1 also crosses the blood-testis barrier and is shed with semen in the intact male, lasting typically for several weeks following viremia. As barrier damage is key to myeloencephalopathy and abortion, specific aims of this study were to investigate whether virus can be detected in gonads and/or accessory sex glands of intact male horses 1 month after infection, and if there is evidence of tissue pathology. As part of a larger investigation, 5 seronegative yearling colts (Western Stock, age 10 – 13 months) were infected with EHV-1 strain Ab4 (1x107 TCID50) via nasopharyngeal instillation. Animals were euthanized one month after infection. Immediately after euthanasia tissue sections of both testicles and accessory sex glands were collected and fixed in 5% phosphate-buffered formalin. Testicles of 2 age-matched uninfected controls were included. All samples were prepared and stained for histopathological evaluation. Slides were read by at least 2 examiners. Furthermore, tissue sections were collected and prepared for quantitative EHV-1 specific genomic and transcriptional PCR analysis (qPCR and reverse transcriptase RT-qPCR). All animals were successfully infected and became viremic. Histological evaluation of testicular tissue showed variable amounts of seminiferous tubules. All expected cell types of prepubertal testicular tissue were detected. Spermatogenesis was absent most likely due to age and prepubertal status. Histopathologic examination showed moderate multi-focal monocytic/lymphocytic infiltrations in both, testicular tissue as well as accessory sex glands. Mild perivascular cuffing and damage to the germ cell layer were noticed. In comparison, monocytic/lymphocytic infiltrates were absent in the testicles of age-matched controls without known previous EHV-1 exposure. Twenty-five tissue samples (15 accessory sex glands, 10 testicles) were tested for EHV-1 using qPCR and RT-qPCR. Four out of 10 testicular samples from different animals tested positive for viral DNA. In a single animal the testicular sample and one of its accessory sex glands (ampulla ductus deferens) tested positive for viral DNA. Viral mRNA could not be detected in any of the samples. EHV-1 is present in the male gonads one month after infection. Results could not determine the exact localization of virus in the tissue sections. The stage of EHV-1 infection (lytic or a latent) was not determined and will require further investigation. Furthermore, the phenotype of germ cell and mononuclear cell populations containing EHV-1 will require further analysis. The monocytic/lymphocytic infiltrates and perivascular accumulations are hallmark findings of EHV-1 infection of the endometrium or the spinal cord, suggesting a similar pathogenesis for the male gonads.